Mimaki JV400LX Printer
Mimaki's continued commitment to innovative products and technologies sees the launch of a complete new range of wide format printers, new inks and environmentally friendly solutions for the sign, display and graphics markets.
Innovative, more ecologically friendly latex inks
The world's first water-based White latex ink
Fast drying inks for improved productivity
6 colour printing (CMYK, Orange and Green) plus white ink
Lower ink curing temperatures (60 degree Celcius or less) allows greater flexibility and choice of media
High print durability for outdoor or indoor applications
Production quality output at up to 18 sqm per hour
Choice of two print widths (1371 mm or 1620 mm)
Improved variable dot print technology provides minimum dot size capability of just 4 picolitre
Eco-friendly Water-based Ink

The innovative water based latex inks are odourless and feature no hazardous VOC's (volatile organic compounds) and are HAPs (Hazardous Air Pollutants) free. This eco-friendly ink does not need special ventilating equipment and is better for the environment. Available in 4 colours (CMYK) plus white to provide endless versatility.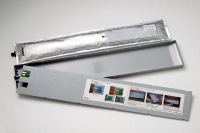 Eco-cartridge method Mimaki latex inks come in eco-cartridges that can be repeatedly used by changing spent ink packs. This eco-cartridge method contributes to waste reduction and can provide ink at lower prices.
Ink pack capacity is 600 ml.
LX100 white ink is for 220 ml ink cartridge
| | |
| --- | --- |
| Print head | On-demand Piezo head (array of 2 heads in-line) |
| Maximum width | JV400-130LX : 1,361 mm | JV400-160LX : 1,610 mm |
| Print resolution | 600, 900, 1200 dpi |
| Print speed | High speed : 18 sqm/h (1200 x 900 dpi, 6 pass, bi-directional, 4 colour) | Standard: 11.1 sqm/h (900 x 900 dpi, 12 pass, bi-directional, 4 colour) | High quality : 6.7 sqm/h (1200 x 900 dpi, 12 pass, bi-directional, 4 colour) |
| Ink type | LX100 Latex ink (4 colours and white – C/M/Y/K) | LX101 Latex ink (6 colours and white – C/M/Y/K/ Green and Orange) |
| Ink supply system | 600ml ink pack (LX100 white ink is for 220ml cartridge) |
| Media | Width : Up to 1,371mm / 1,620mm | Weight : Up to 25 kg | Roll diameter : Up to φ180mm | Inside roll diameter : 2-3 inch | Print aspect : Inside/outside | Cutter : Y-direction cutter after head section |
| Drying device | 3 way intelligent heater (Pre/Print/After), ventilation fan unit, drying fan heater |
| Media take up device | Roll take-up device, inside/outside selectable |
| Interface | USB 2.0 |
| Power specifications | AC100~240V±10% |
| Power consumption | 100~120V:1,440W x 2 , 200~240V:1,800W x 2 |
| Dimensions (w x d x h) | JV400-130LX : 2,634 x 854 x 1,435 mm | JV400-160LX : 2,879 x 854 x 1,435 mm |
| Weight | JV400-130LX : 216 kg | JV400-160LX : 231 kg |
Compatible Products